February's Spider of the Month: Small Iridescent Amethyst Twisted Spider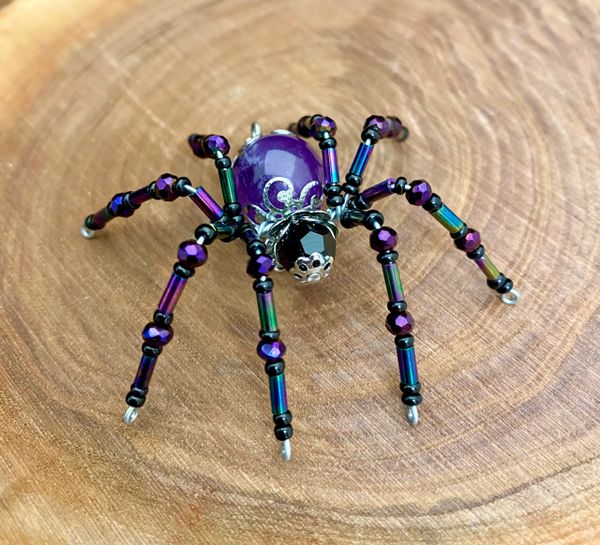 February's Spider of the Month: Small Iridescent Amethyst Twisted Spider
Happy Birthday to those of you who were born in February. Amethyst is February's birthstone and we are celebrating with this new special Twisted Spiders amethyst design. There is much literature and folklore written about amethysts. At one time they were known to be more valuable than diamonds and worn by royalty and clergy.
Description: 
This small
 size Twisted Spider has a unique amethyst stone body with a faceted black crystal glass head and stainless steel 
bead caps. The legs are accented 
with jeweled purple rondelles and iridesent and black colored glass beads
. 
The spider can be finished with either an
ornament hook for displaying, a pendant with necklace cord, and for a small fee a hair clip, or brooch pin can be glued underneath for accessorizing
. This spider measures 2 inches in diameter.  
Twisted Spiders is a patented design, U.S. Patent D0629471. If you are inspired by Twisted Spiders, please respect our unique patented design and seek appropriate counsel before proceeding with your artistic endeavors.

Thank you for choosing Twisted Spiders!!  
Remember to find us on social media at:
Reviews